Fall 2019 Book Fair is almost here!
The Austin Creek Fall 2019 Book Fair starts Monday9/23!
Mrs. Poole, our librarian need Book Fair Volunteers…
The Fall Book Fair is open from Monday, September 23 through Friday, September 27th and we need your help to make it a huge success. If you are available to fill any volunteer slots, please do so as soon as possible. We have several different ways for you to help like helping the students choose books and find prices, letting students in and out of the book fair, and working the cash registers. We thank you in advance for helping make this the best Fall Book Fair to date and have many great books to choose from. Looking forward to seeing you all!
Please
click here to sign-up to be a super Book Fair volunteer!
Wish Lists & More...
E-Wallet…a great and safe new way to pay.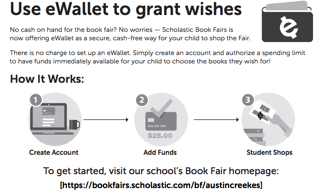 Please check for your Teacher's Wish List posted in the library on the "Wish List Board". You can use this opportunity to enhance your child's classroom library!
Gift certificates are available for purchase if you would like your child's teacher to pick something out on their own.
You can make a cash, check, or credit card donation to our book fair and all donations go directly towards books for the library for your children to enjoy! In addition, Scholastic will match any donations and help supply books to children through two programs that help children in need from disasters.
Shopping Opportunities - Our Online Book Fair is here!!!
In addition to our fair being open at school this coming Monday through Friday, you can also show support by shopping our Online Book Fair. You and your family members will be able to shop from home or on the go with our convenient On-line Austin Creek Book Fair, which runs Now- October 4. Please click on the link below to connect with our online fair. This is also a great way for long distance relatives to support their little readers with a special treat.
http://www.scholastic.com/bf/austincreekes
More Book Fair Volunteer Opportunities - Sixth Grade Community Service
This is a very fun and easy Community Service Volunteer Opportunity. Please sign your 6th Grader up for ONLY one (1) shift per day so your student gets the opportunity to eat lunch. On Thursday 6th graders can do one lunch shift in addition to the 3:30 - 4:30 shift.
Please click here to sign-up to be a 6th Grade Volunteer!
If you or your 6th grader have any questions
please contact Mrs. Poole
2019 Fall Book Fair - Hours of Operation
Monday 9/24
: 8:00-8:30 am, 11:50-1:00 pm, 1:50-3:00 pm
Tuesday 9/25
: 8:00-8:30 am, 11:50-1:00 pm, 1:50-3:00 pm
Wednesday 9/26
:: 8:00-8:30 am, 11:50-1:00 pm, 1:50-3:00 pm
Thursday 9/27
: 8:00-8:30 am, 11:50-1:00 pm, 1:50-3:00 pm
Friday 9/28
: 8:00-8:30 am, 11:50-1:00 pm Last Call,……….
Closed
...
1:55-3:00 pm Pack Up Book Fair
Visit our outstanding library!
Students visit the library once each week
. During this time, the librarian reads them a story and then each child is allowed to check-out books. Kindergartners check out one book. Children in grades 1-6 check out two: one Accelerated Reader(AR) book and one general book. Junior Librarians may check out three books. Books are due back one week later.
Who are Junior Librarians?
Junior Librarians are 4th-6th grade students who help the librarian each week by cleaning and organizing bookshelves.
What is AR?
Accelerated Reader (AR) was developed in 1985 as an assessment that primarily determines whether or not a child has read a book. After a child reads the book, they are provided with a computer-generated quiz. The results from these quizzes are intended to assist, motivate reading, monitor progress, and target instruction. Reports regarding reading level and comprehension skills are available through the software.
Renaissance Home Connect – This website will allow you to view your children's AR progress. Contact your child's teacher for username and password. You can even setup an email notification every time your child takes a quiz.
Use our
Sonoma County Library, too! (Search for any book. Select "Request Item." Enter your library card and phone number and the book will be ready for you at the Rincon Valley library.)